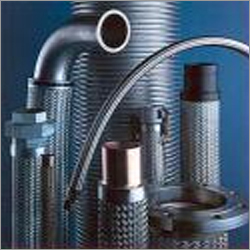 Double Wire Braided Hoses
Product Description
DOUBLE WIRE BRAIDED HOSES

We manufacture highly durable strip wound hoses. These are manufactured by spirally winding a preformed continuous metal strip, so that the edges interlock to form a hose. The strip wound hose is available with a directional flow liner. Material of construction includes stainless steel, galvanized steel nad alloys. Standard sizes ranges from 5/32" through 12" I.D. A variety of lengths and end fitting configurations are available to fulfill client requirements.


Applications:

Our Strip Wound Hose is generally used in liquid & solid handling applications that include conveying sawdust, grain, plastic pellets, tar and asphalt, and exhaust fumes. These can also be used as a protective armor guard on other types of hose assemblies, flexible electrical conduit applications with end fittings.


Certified Welders ASME B31.3 Section 9
Custom Fittings Available
Metal hose assemblies & custom fittings available
Helium Leak Testing with Mass Spectrometer
For piping installations requiring temps to 1500o, vibration absorption, Chemical resistance and effusions.
Pump Connectors
Flex lines (flexline) flexible metal hose assemblies
Bellows
Expansion joints
Cryogenic metal hose assemblies
Annular and Helical metal hose assemblies
Tubular and Braided metal hose assemblies
321, 316 Stainless, and specialty metals including Monel and Inconel
Oxygen Service Cleaning available
Custom length hose assemblies from 1/4" ID" 14" ID
Stocking fabricator/manufacturer