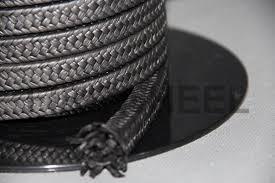 Graphite Coated Ceramic Rope
Product Description
Graphite Coated Ceramic Rope
Product Description:
This
Graphite CoatedCeramic Fiber Rope With Wire Reinforcement
is braided from Aluminosilicate yarn (Ceramic yarn) reinforced with
Inconel
wire & impregnated with special lubricant enriched with High Carbon Graphite. It is resistant to very high temperature and is intended to be used for movable components as well. Impregnation of every thread before braiding results in a very high performance packing. This packing is available in various sizes from 6mm to 100mm or above on request.
Brand: GLOBAL
Technical Parameters:
Maximum Temperature : 1260oC
Continuous Working Temperature : 1200oC
Pressure : Upto 40 bar
Electrical Conductivity : Conductive
Thermal Conductivity : 0.18W/moK at 1000oC
Applications:
This packing is recommended for low & medium pressure dynamic applications & for static applications. It can be used in steam, saline, acid & alkali solution except for concentrated ones. It is extremely suitable for rotary kiln's inlets & outlets.