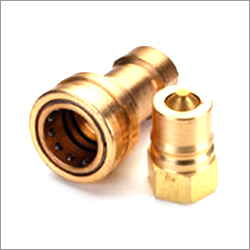 Quick Release Couplings
Product Description
Quick Release Coupling:
The series "IRB" and "IR BX" quick couplings, know as Industrial Series, are interchangeable according to ISO 7241 B standards and are made in carbon steel and in AI SI 316 stainless steel. The Series "IRB" and "IR BX" most important characteristics are compactness, practicality and safeness.
Field of Application:
The Series "IRB" quick coupling is mostly used in industrial plants, also thanks to its interchangeability with other couplings produced by other world wide known manufacturers.
The Series "IR BX" quick coupling is the traditional AI SI 316 stainless steel coupling which is used in a wide range of industries, such as: Shipbuilding, Off-shore, Chemical, Food, Oil refinery, Pharmaceutical, etc.
Characteristics and Optionals:
Material: high resistance carbon steel bars.
balls mechanical coupling system.
Buna N nitriclic rubber seals.
PT FE anti-extrusion ring.
Temperature range from - 20 to 100oC.
Standard BSP threads.
Protection with yellow chromium zinc passivisation Series IR BX Technical Characteristics and Optionals.
AI SI 316 stainless steel.
Spring and balls in AI SI 302/316 stainless steel.
Brass flow vanes.
Vi-ton seals with temperature ranging from - 10 to 180oC.
Anti-extrusion PT FE ring.
Standard BSP and NPT threads.
On request: AI SI 316 stainless steel flow vones, Various seals, Brass material.