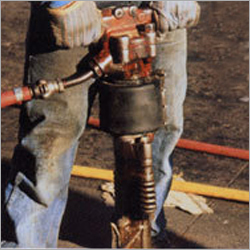 Rock Drill Hose
Product Description
Rock Drill Hose
This heavy duty Rock Drill Hose Pipes is specially designed to withstand the severest service in dredging operations. Made like a Dredge Sleeve but with a tough spring steel wire embedded between multiple plies of all-Polyester belt fabrics. A brute of a hose with plain ends for industries toughest applications.
For the most severe service, this hose has our best compounds and heaviest fabrics. High tensile wire inserted carcass stands full vacuum. Plain ends, 100 mtr maximum length.
Available in PVC,WIRE REINFORCED AND RAYON BRAIDED.