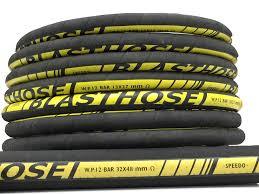 Shot Blasting Hose
Product Description
A long-lasting heavy-duty hose exceptionally tough and abrasion resistant, for use in sand and steel blasting service; it is manufactured with anti-static rubber granting a complete discharge of static electricity. Temperature range: -40 degree C (-40 degree F) to 70 degree C (+158 degree F) Tube: Black, smooth with excellent resistance to abrasion; it is anti-static. Reinforcement: High strength synthetic cord. Cover: Black, smooth (wrapped finish) highly abrasion resistant synthetic rubber; it is anti-static. Coils: 15 mt continuous length
With the support of our experienced professionals, we are able to manufacture, export and supply high-grade Sand/Shot Blast Hose. These hoses are used to convey sand in high speed and pressure in steel manufacturing workshops and ordnance factoring. The hose, which we offer are extensively used in construction, quarries, water supply and irrigation projects as these hoses are lighter than conventional rubber. The Sand/Shot Blast Hose is made using natural rubber compounds, therefore these are very strong and has a smooth lining.
Tube:
Extra thick seamless tube of soft natural rubber compound of high tensile strength, excellent abrasion resistant and free from any mineral filler.
Reinforcement:
Plies of woven textile of high strength natural or synthetic fibre
Electrical Bonding:
Low resistant electrical bonding wire incorporated between the reinforcement plies to provide electrical continuity along the whole length of the hose. .
Cover:
Natural or Synthetic Rubber, Cloth marked finish.
This hose is used for Sand/Shot blasting applications for conveying sand and other abrasive materials at high velocity in heavy engineering industries, ordnance factories etc.