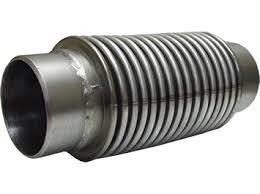 Weldabe Necks expansion Bellows
Product Description
Weldabe Necks expansion Bellows
Resistance welding, also known as roll seam welding, is a process of overlapping machine spot welds. Our Bellows offers this process on multi-ply bellows to join all of the plies together at the end of the necks thus making welding almost fool proof for the customer. Resistance welding can be done with or without a reinforcing band depending on the bellows ply thickness.
We offers precision neck expansion on all of our single ply and multi-ply bellows. As experienced fabricators know, a better fit means easier and faster welding. When the neck fits tightly to the flange or pipe it is being welded to the chances for leaks are greatly reduced.
Weld in liners are designed to weld to the flange or pipe after the bellows attachment weld is made. Each flow liner is precision expanded for a tight fit thus reducing the weld time. Our Bellows offers single step expansion for standard clearance and double step expansion for larger clearances needed for lateral offset.